Why Buying Krups Coffee Makers Is The "In" Thing
If you're keen on buying Krups coffee makers, you should know that there are actually different Krups models and each one promises to give you a richer, more flavorful coffee drinking experience.
There are roughly three models of the Krups brand:
Filter coffee machines which are simple drip coffeemakers for making traditional coffee
Coffee-espresso machines which you can program to make espresso or drip coffee
Pod coffee machines which can speed-brew one or two cups of coffee in under one minute. You can program them to make simple drip coffee or creamy drinks.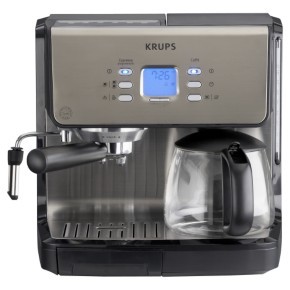 Thus, if you're buying Krups coffee makers, you need to think about how you want your coffee and, more importantly, how many people are going to enjoy your brew.
The good thing about buying Krups coffee makers is that this brand is reasonably priced. The cheapest coffee machine we found was at $49 while the most expensive cost over $100. But those are just the ones we found on Amazon. If you want to get the best price, you should look at other online stores and do a bit of comparison shopping.
It's probably its price range that makes Krups popular among passionate coffee drinkers (it certainly beats the price of buying a cup of Cafe Americano everyday from Starbucks).
However, aside from the price, we like to think it's popular because the coffee doesn't taste bad at all when you brew it with Krups. Of course, it does help that Krups coffee machines do last a long time – around seven years it the average lifespan for this brand of coffee makers.
So, if you love coffee and drink it like water, you should stock your house with coffee beans and get a 12-cup Krups coffee machine. You won't regret it.